Welcome to the Quranic Arabic Corpus, an annotated linguistic resource for the Holy Quran. This page shows seven parallel translations in English for the 66th verse of chapter 56 (sūrat l-wāqiʿah). Click on the Arabic text to below to see word by word details of the verse's morphology.
Chapter (56) sūrat l-wāqiʿah (The Event)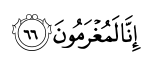 Sahih International: [Saying], "Indeed, we are [now] in debt;
Pickthall: Lo! we are laden with debt!
Yusuf Ali: (Saying), "We are indeed left with debts (for nothing):
Shakir: Surely we are burdened with debt:
Muhammad Sarwar: crying, "We have been left to suffer loss.
Mohsin Khan: (Saying): "We are indeed Mughramun (i.e. ruined or lost the money without any profit, or punished by the loss of all that we spend for cultivation, etc.)! [See Tafsir Al-Qurtubi, Vol. 17, Page 219]
Arberry: 'We are debt-loaded;
See Also