Welcome to the Quranic Arabic Corpus, an annotated linguistic resource for the Holy Quran. This page shows seven parallel translations in English for the 64th verse of chapter 55 (sūrat l-raḥmān). Click on the Arabic text to below to see word by word details of the verse's morphology.
Chapter (55) sūrat l-raḥmān (The Most Gracious)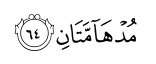 Sahih International: Dark green [in color].
Pickthall: Dark green with foliage.
Yusuf Ali: Dark-green in colour (from plentiful watering).
Shakir: Both inclining to blackness.
Muhammad Sarwar: - dark green in color.
Mohsin Khan: Dark green (in colour).
Arberry: green, green pastures --
See Also