Welcome to the Quranic Arabic Corpus, an annotated linguistic resource for the Holy Quran. This page shows the Arabic grammar (إعراب) for the 64th verse of chapter 55 (sūrat l-raḥmān). The information below is adapted from the grammatical analysis at the Quran printing complex.
Chapter (55) sūrat l-raḥmān (The Most Gracious)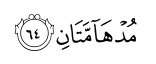 «مدهامَّتان» نعت لـ«جَنَّتَانِ»، وما بين النعت والمنعوت جملة معترضة.
See Also