Welcome to the Quranic Arabic Corpus, an annotated linguistic resource for the Holy Quran. This page shows seven parallel translations in English for the sixth verse of chapter 77 (sūrat l-mur'salāt). Click on the Arabic text to below to see word by word details of the verse's morphology.
Chapter (77) sūrat l-mur'salāt (Those sent forth)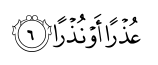 Sahih International: As justification or warning,
Pickthall: To excuse or to warn,
Yusuf Ali: Whether of Justification or of Warning;-
Shakir: To clear or to warn.
Muhammad Sarwar: to provide excuses for some and to give warnings to others:
Mohsin Khan: To cut off all excuses or to warn;
Arberry: excusing or warning,
See Also