Welcome to the Quranic Arabic Corpus, an annotated linguistic resource for the Holy Quran. This page shows seven parallel translations in English for the twelfth verse of chapter 80 (sūrat ʿabasa). Click on the Arabic text to below to see word by word details of the verse's morphology.
Chapter (80) sūrat ʿabasa (He frowned)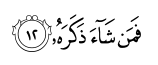 Sahih International: So whoever wills may remember it.
Pickthall: So let whosoever will pay heed to it,
Yusuf Ali: Therefore let whoso will, keep it in remembrance.
Shakir: So let him who pleases mind it.
Muhammad Sarwar: so let those who want to follow its guidance do so.
Mohsin Khan: So whoever wills, let him pay attention to it.
Arberry: (and whoso wills, shall remember it)
See Also