Welcome to the Quranic Arabic Corpus, an annotated linguistic resource for the Holy Quran. This page shows the Arabic grammar (إعراب) for the 154th verse of chapter 3 (sūrat āl ʿim'rān). The information below is adapted from the grammatical analysis at the Quran printing complex.
Chapter (3) sūrat āl ʿim'rān (The Family of Imrān)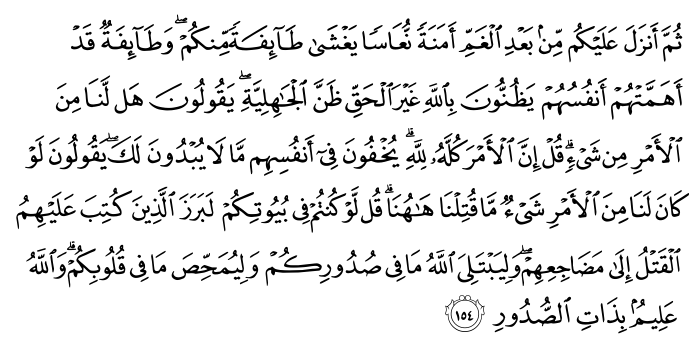 قوله «نعاساً» بدل منصوب، وجملة «يغشى» نعت في محل نصب. وقوله «وطائفة قد أهمتهم» الواو حالية، و«طائفة» مبتدأ، وجاز الابتداء بالنكرة لاعتمادها على الواو، والوصف المقدر أي: وطائفة من غيركم. وجملة «قد أهمتهم» خبر لـ«طائفة»، وجملة «يظنون» خبر ثانٍ لـ«طائفة»، وجملة «يقولون» حالية من الواو في «يظنون»، وجملة «قل إن الأمر كله لله» معترضة لا محل لها. وجملة «يخفون» حالية من ضمير «يقولون» في محل نصب، وجملة «يقولون» حالية من ضمير «يخفون». وقوله «غير الحق» مفعول أول، والتقدير: يظنون غير الحق كائناً بالله، وقوله «ظن الجاهلية» مفعول مطلق. قوله «هل لنا من الأمر من شيء» «هل» استفهامية، و«لنا» متعلق بالخبر، والجار «من الأمر» متعلق بحال «من شيء»، و«شيء» مبتدأ، و«من» زائدة. وقوله «وليبتلي» مضارع منصوب بأن مضمرة جوازاً بعد لام التعليل، والمصدر المؤول مجرور باللام، متعلق بفعل مقدر أي: وفرض القتال ليبتلي. وقوله «وليمحّص» مضارع منصوب بأن مضمرة، والجار والمجرور معطوف على المصدر السابق، والتقدير: فرض للابتلاء والتمحيص، والفاعل ضمير هو.
See Also